How to choose a ready-made kit to remove dents without painting?
This question was asked by every aspiring wizard for PDR repair. And the worst thing in this issue that presents a selection of PDR equipment is very wide, the eyes run and what to choose, and most importantly why? What should be in an ideal set for the full repair? I bring to Your attention an article that will answer all these questions and help you choose a reliable ready tool set for repair of dents without painting.
There is nobody not a secret that among the tool pdr identified two market leader. This is such a big company as Ultra Dent Tools, of American manufacture, and the founder of technology for removal of dents without painting Nussle Spezialwerkzeuge from Germany.

It's two companies that define the direction of technology development. German manufacturing has a more conservative view on the da tool has such a wide range, but it produces everything you need to repair hooks, accessories, etc., have established ourselves as one of the most reliable companies in the manufacture of the equipment for repair of dents without painting. The compositions of the sets tested for decades, which confirms once buyers again and again picking
Nussle
. Tool guaranteed for life, high functionality and well-established name.
Ultra Dent has the widest range of products, ready to offer a hook to any, even the most capricious taste. Your attention will offer hooks with removable handles, under screw heads, variable geometry, and much more.
Each manufacturer offers their own versions of the compositions of the ready-made kits for removing dents without painting, but it is important to understand what the sets should be?
In the first place in complete kits for removing dents without painting should be a good basis from hooks. What are the hooks included in the main tool:
1. Hooks to work in a straight line with a thickness of 9 mm. Is the power hooks that will withstand a good load. Will not fail in the great work and straighten all the dents in open areas.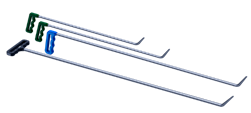 2. The door tool is hooks with a bend of 90o or more. Can have both a circular bend and corner. Often have a thin spout for entry under the amplifiers.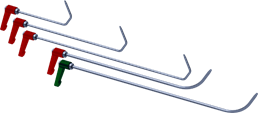 3. Mandatory tool for the job in the wings. Strong bend is very handy when working in the arches. And the thin spout ensures good permeability in the wings with a narrow space.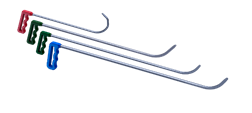 4. Brassavola tool and tool for difficult access - it hooks up to 6 mm thick for comfortable work, through the technological holes in areas of difficult access. Have good permeability. Excellent work on the edges. It is important to understand that the hooks in this category should also be different lengths, so is ideal for finishing work at different distances.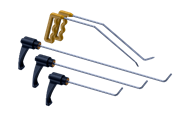 5. Whale tails with the narrow end used to work under tight glued amplifiers and on the edges of the elements. Due to the acute sharpening you can cut the sealant in the desired area without damaging the car body. Indispensable for the work under the amplifiers only work on twisting.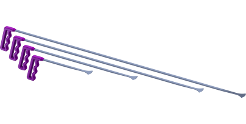 6. And of course hooks with a double bend suitable for repair of large damage, is Indispensable when working with hail cars. Work in all areas of the car.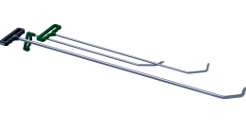 I would like to draw Your attention to our advice is that buying a tool with a rotating handle , You greatly increase its functionality and capabilities, and the self becomes comfort while working. But to buy all the hooks with swivel handle is not required, for example, hooks work on a straight line does not require such benefits, it is simply useless, but their functionality can be increased by attachments.
Also, You will need raskreplenija to provide support hooks (chain unfastening, unfastening the door, unfastening through the trunk lid, etc.).

To work in the door without reinforcement works will require expansion pillow, a wedge and a protective screen, but to fix the door enough to get stops and delays. Also they are ideal to secure the hood or trunk lid.

For access under amplifiers need a knife for cutting the sealant, as dovetail is to cut a large area will be very difficult, it is likely to damage the hook.

Second, without which there can be no full sets of PDR tools – glue system.
Of course, should be a good adhesive and fluid for removing glue, so as not to tear the paint during operation. Glue gun, which melted and applied glue and a wide selection of adhesive fungi of different diameter.

The reverse hammer and minilifter must be in Your Arsenal because they allow you to pull the dent, providing traction glued to the fungus. A hammer will help when working with large damage and related fungi, and mililiter gently pull small dents and so where You have limited free space.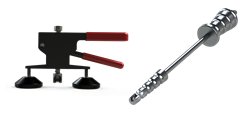 During operation, You will definitely come across as a bump or peak advantages. To address them will help the system separation, which includes the cores of stemmer and hammers for blending.

And most important, without which it can not work none of the master is a high quality and professional light. The choice of light must be approached responsibly. At the moment, the market light offers a wide selection. It is important to choose the light with which it will be convenient for You. High quality LED strip and rasseivateli latest generation take care of Your eyes and reveal all the details of the repair, the protective housing will protect the car from damage, and secure fixation will help you to enjoy the work process.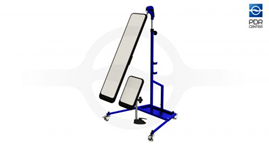 And of course, when choosing a not unimportant point is the material from which made the tool. Ready-made kits of the da tool, available in our store do not require diligent maintenance, do not rust, have excellent reviews among the buyers and will serve You faithfully for many years. Only in our store You will be pleasantly surprised, finding for yourself a convenient service with the biggest warranty that You are offered by no other store.
We are unique in our range, we are the official representative and exclusive supplier of the goods from manufacturers such as Nussle Spezialwerkzeuge, Ultra Dent Tools and Betag Innovation. In this case, Your attention is also ready to offer such manufacturers as 1PDR, , PRC, WoYo, Keco, Steck and many more.